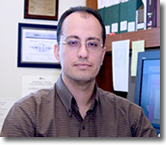 Professor Manos M. Tentzeris
He is currently a Professor with the School of ECE, Georgia Tech. He is currently the Head of the Electromagnetics Technical Interest Group of the School of ECE, Georgia Tech. He has served as the Georgia Electronic Design Center Associate Director for RFID/Sensors research from 2006-2010 and as the GT-Packaging Research Center (NSF-ERC) Associate Director for RF research and the leader of the RF/Wireless Packaging Alliance from 2003-2006. Also, Dr. Tentzeris is the Head of the A.T.H.E.N.A. Research Group (20 students and researchers) and has established academic programs in Highly Integrated/Multilayer Packaging for RF and Wireless Applications using ceramic and organic flexible materials, paper-based RFID's and sensors, inkjet-printed electronics, nanostructures for RF, wireless sensors, power scavenging and wireless power transfer, Microwave MEM's, SOP-integrated (UWB, mutliband, conformal) antennas and Adaptive Numerical Electromagnetics (FDTD, MultiResolution Algorithms).
 Title : Inkjet-Printed Nanotechnology-enabled RFID, Internet of Things and "Zero-Power" Wireless Sensor Nodes
Abstract:
Nanotechnology and Inkjet-printed flexible electronics and sensors fabricated on paper , plastic and other polymer substrates are introduced as a sustainable ultra-low-cost solution for the first paradigms of Internet of Things, "Smart Skins" and "Zero-Power" applications. The talk will cover examples from UHF up to the millimeter-wave frequency ranges (mmID's), while it willl include the state of the art of fully-integrated wireless sensor modules on paper or flexible polymers and show the first ever 2D sensor integration with an RFID tag module on paper, as well as numerous 3D multilayer paper-based and LCP-based RF/microwave structures, that could potentially set the foundation for the truly convergent wireless sensor ad-hoc networks of the future with enhanced cognitive intelligence and "zero-power" operability through ambient energy harvesting and wireless power transfer. Examples from wearable (e.g. biomonitoring) antennas and RF modules will be reported, as well as the first integration of inkjet-printed nanotechnology-based sensors on paper and organic substrates. The talk will also present challenges for inkjet-printed high-complexity modules as well as future directions in the area of environmentally-friendly ("green") RF electronics and "smart-house" conformal sensors.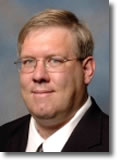 William Lumpkins
Senior Member, IEEE Chair of Committee on RFID, IEEE Consumer Electronics Society Standards Chair, IEEE P1874 WG Chair. VP of Engineering, O & S Services Inc., and Senior Applications Analyst for Wi2Wi Inc.
William is an innovative technical problem solving professional with 20 years' experience designing circuit boards related to telecommunications, military and computer peripheral markets, both in the US and Japan.  He has taken projects from concept to RTL verification to board creation. He is a big picture manager with focus on providing customer training, developing documentation (white papers & application notes), systems development, and promoting customer satisfaction.
His key technical skills include speaking conversational Japanese, Versatile Analog & Digital Engineer, and active participant of the following standards DLNA, UPnP, UWB 802.15.3, 802.11, 802.3, and P1874. He is an active user of the following technologies MPEG 2, 4, H.264, GSM, DRM, I2C, SPI, UART, LCD, IR, Ethernet, 802.11abgn, Bluetooth 3.0/4.0, Video codec's, low power/battery-based design skills and RF analog design, PCI, USB 2.0, ATA/ATAPI, SDIO, Wireless USB, UWB, Serial ATA, PCI express, DLNA, UPnP, RFID, Energy Harvesting, Synopsis Design Compiler, Altera/Xilinx FPGA software, schematic/PCB/Router, Timing Designer, and Lab View
Dion Wiggins
Dion Wiggins is a highly experienced ICT industry visionary, entrepreneur, analyst and consultant. He has an impressive knowledge in the fields of software development, architecture and management, as well as an in-depth understanding of Asian ICT markets. He is an accomplished speaker and has a high media profile for his perceptive analysis of ICT in Asia/Pacific.
Previously Dion was Vice President and Research Director for Gartner based in Hong Kong, where he was the most senior and highly-respected analyst based in all of Asia. Dion's research reports on ICT in China helped change the way the world views this market.
Dion is also a well-known pioneer of the Asian Internet Industry, being the founder of one of Asia's first ever ISPs (Asia Online in Hong Kong). In his role at Gartner and in various other consulting positions prior to that, Dion advised literally hundreds of enterprises on their ICT strategy.
Dion was a founder of The ActiveX Factory, where he was recipient of the Chairman's Commendation Award presented by Microsoft's Bill Gates for the best showcase of software developed in the Philippines. The US Government has recognized Dion as being in the top 5% of his field worldwide and he is a former holder of a US O1 Extraordinary Ability Visa.

Professor Sureswaran Ramadass
Professor Sureswaran Ramadass is a Professor and the Director of the National Advanced IPv6 Centre of Excellence (NAV6) at Universiti Sains Malaysia.
He obtained his BsEE/CE (Magna Cum Laude) and Masters in Electrical and Computer Engineering from the University of Miami in 1987 and 1990 respectively. He graduated as the top student in the College of Engineering for his Bachelors Degree. He obtained his PhD from Universiti Sains Malaysia (USM) in 2000 while serving as a full time faculty in the School of Computer Sciences.
Prof Sureswaran started his career in 1990 as head of technical support and customer relations manager for ComputerBanc Inc, a company with a chain of 7 stores in South Florida. He later joined MODCOMP, Florida as a senior member of the research team. MODCOMP, a wholly owned subsidiary of AEG Daimler Benz, was focused on the research, development and deployment of real-time operating systems. Their customers included Jet Propultion Labs (JPL) and the National Aeronautics and Space Administration (NASA) for their remote space vehicles. He later joined ICON Business System, Inc (Florida) as Senior Consultant in 1991. He was subsequently promoted as Vice President of Engineering and was responsible for the entire engineering and R&D divisions of ICON. In 1992, he returned to Malaysia to join USM as a lecturer. In 1993, he formed and grew the Network Research Group to become a world recognized research center. In 2005, he became the first director of NAv6 (the Next Generation Internet Center) in Universiti Sains Malaysia (USM).
 
>
John Tay
John Tay is the Director, Digital Initiatives Division in Malaysian Communications and Multimedia Commission (MCMC) and has been with the Commission for the past 10 years. John Tay has more than 25 years of experience in the ICT industry and holds a B.Sc degree in Computer Science from USA and MBA from Australia. John has worked overseas for many years in the Healthcare, Biopharmaceutical and Aerospace Defense industry. Other ICT exposures locally are in Banking, Oil and Gas, IT Services, Advertising and Telecommunications industries.
In MCMC, John Tay is responsible for promoting and facilitating the Digital Lifestyle Malaysia(DLM) Initiative on Connected Lifestyles and Internet of Things(IoT) adopting RFID, WSN, NFC as a technology enabler. John is familiar with the development of Malaysian RFID market and worked closely facilitating RFID adoption with the industry.
John's role is to spearhead the development and implementation of SKMM's Digital Lifestyle Malaysia (DLM) using infocomm technologies and content services. His role is to promote a connected DLM ecosystem society via mobile info-based apps to further enhance user experience, quality of life, lead change, drive innovation and contribute to national economy.